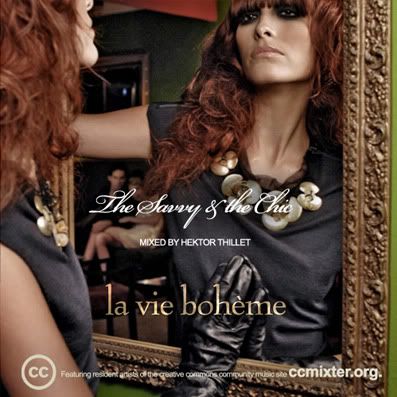 The Savvy & the Chic Vol.2: La Vie Bohème *mixed by Hektor Thillet*
Download here!
TRACK LISTING
1. The Savvy & the Chic Epitome No.1
2. I know - The Spirit of light ft. Fivestar
3. You are - Beckfords (Rifft Remix)
4. Cidade Sol - Tamy (Tigertone Z-Block Mix)
5. I Want To Shout Out - DJ Vadim (DJ Roach Remix)
6. Jar Hut - Morusque
7. Crammed Discs - EssenJ
8. Tarzan and the Jungle Furies - Hektor Thillet ft. E-Stereo
9. Sanidade - Dj Dolores (Lucio K Remix)
10. If you can't - Monstersbaby (DJ Essential-i deeper remix)
11. Noite de Carnaval - Cibelle (Andre Sebastian Remix)
12. Carnaval Triste - LAVOURA ELETRO
13. I b there 4 u - Tomas PhUsIoN ft. 99th Floor Elevators
14. A second opinion on love - Colab
15. Virtual Land - Spliffvalley ft. Leza2unes
16. Naluwan House - Sonja V (Charlie Bit Me Remix)
17. It Was 1972 - Lasswell ft. Frank Carter III
Album Info:
"The Savvy & the Chic is a chillout album series, compiled and mixed by Hektor Thillet. This series features an eclectic mix of music available in the Creative Commons Music Community.. All tracks are CC-licensed.
*Official Album Cover of \"The Savvy & the Chic Vol.2: La Vie Bohème. Artwork donated under a nonprofit license by Leonardo Thillet of IMAGEN Fashion Magazine of Puerto Rico.*