This release of TSATC is a mother's present of sorts… My mom hasn't been in the best of shapes lately [she'll survive]. But! Since I am her biggest fan, decided that my next mix of "The Savvy & the Chic", would be dedicated to her. So-Here it is! My focus for this one was "the Latin culture" and it's delicious blends in music with the rest of the world. Volume-two was a glimpse of things to come. Volume-three is the whole 2-cd of the idea realized. I thank everyone over at ccmixter, for their contributions, and for making such groovalicious music. Of course, I thank you the listener as well; you keep the grooving-moving. Enjoy-gracias.
P.S. The album artwork, produced by yours-truly, features the muse [my mom] in my FRIDA-esque of goodness & warmth.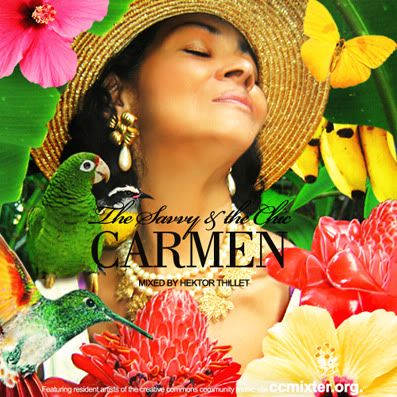 The Savvy & The Chic Vol.3: Carmen CD1 *mixed by Hektor Thillet*
Download CD1 here!
Download CD2 here!
CD 1 TRACK LISTING
1. Carmen - Hektor Thillet ft. La_Puerta
2. Quantified - Asteria (TheLaw Mix)
3. Samba do Aeroporto (Pra Gringo Ver) - Gerador Zero
4. Loving Man - Alex ft. Ciggi Burns
5. Who Am I To Disagree - Minimal Art ft. Magda Szukics
6. Today - Spinningmerkaba ft. Essesq
7. When I Look Into Her Eyes - Falik
8. Motherless Child - The.Spirit.Of.Light ft. Innabar
9. Carta de Don Quijote a Dulcinea - GranadaDoaba ft. Hektor Thillet
10. PodeQueimar - Alt-Control-Delete ft. Delve
11. Till My I & Eyes Die LoveShadow ft. Kaer Trouz
12. Oslodum 2004 - DJ Dolores
13. Oslodum - Gilberto Gil
The Savvy & The Chic Vol.3: Carmen CD2 *mixed by Hektor Thillet*
Download here!
CD 2 TRACK LISTING
1. F.J.C. (Flaneur Jockey Club) - TRZ ft. Celio Jones
2. Recommencer (Mosquitomix in G) - BOCrew (Ditto Ditto Remix)
3. Solito - Hektor Thillet (Kojo Akusa Nylon country Mix)
4. Berimbau - Inverted Silence & Jim Kang
5. No Quiero Mas - Tenny ft. Hektor Thillet & Ana Franco
6. Shayef Nafsak - Mentor Records (Scamper Remix)
7. Wayo Wayo - Andrew Franco (Sharp's Start Select Mix)
8. Scared of my Own Blood - Sunbyrn (Emiralp Minimal Dub Remix)
9. Marionette Man (TUP Passion Mix) - Mabhiza ft. Suzi Q, Mr. B
10. Don't Look Down - Kojo_Akusa ft. State Shirt
11. Ser Livre - Hip Hop Mandando Fechado em Saude e Sexualidade
12. GuiTerra - In Silico
13. Yage Cameras - Apollo Nove (Hisboyelroy's Fractured Rework)
14. Nadeya - Funky Lagos ft. Mentor Rrecords
Album Info:
"The Savvy & the Chic is a chillout album series, compiled and mixed by Hektor Thillet. This series features an eclectic mix of music available in the Creative Commons Music Community.. All tracks are CC-licensed.
*Album Artwork created by Hektor Thillet*